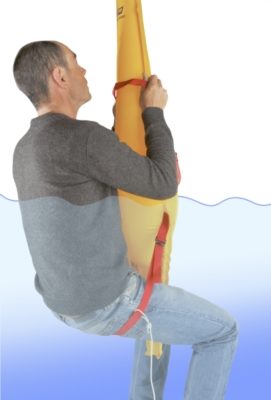 MOB pole for crew-overboard visibility, provides 150 N buoyancy.
ISAF-ORC compliant. 
Dan buoy pole
Yellow nylon, polyurethane coated.
Height above water (inflated pole) : 1.98 m.
Features :  
adjustable webbing sling seat for man-over-board to rest on,
grab handle,
0.75 cd automatically activated light, 8-hour battery life,
red and yellow flag (32 x 20 cm),
retro-reflective tapes (200 cm²),
signalling whistle,
rigid ballast with V-shaped batten structure, acting like a keel for optimum stability,
drogue anchor (28 x 28 cm) to help resist drifting.
Canister :
Torpedo-shaped canister in ABS plastic, height 49 cm x Ø 13 cm.
Weight : 3.8 kg.
OPTIONS & ACCESSORIES:
Gas re-arming kit: (Order code: 50374, €13,00 without VAT) 60gr gas cylinder
Canister alone:

White (Order code: 52240, €29,00 without VAT)
Yellow (Order code: 53417, €38,00 without VAT) Compatible with former models ref. 40203 + 177788 and models ref. 63455 + 61703.

Stern rail mounting kit: (Order code: 415010, €2,40 without VAT)
Additional equipment required by ISAF standards
Besides dan buoy and lighting, ISAF equipment includes :
1 horseshoe lifebuoy.
1 dye marker (ref. 38861).
1 small drogue anchor (ref. 25354) and line.
1 whistle (ref. 16303).
The ISAF regulation stipulates that when at sea, the dan buoy must be either fully extended or, in the case of an inflatable model, deployed in less than 20 seconds.