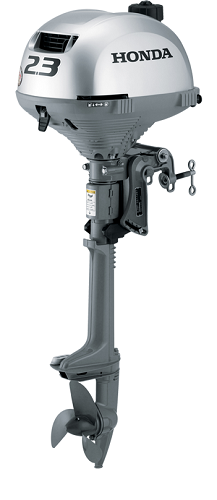 The best things come in small packages.
And that's especially true with Honda's BF2.3, one of the world's lightest four-stroke outboards. The BF2.3 is so light, it rivals many two-stroke 2HP engines and electric motors, without the battery!
But just because it's lightweight doesn't mean we cut back on the power. The BF2.3 features 15% more power over its predecessor. Plus we added a 12% larger internal gas tank, which provides for about one hour of operation at wide-open throttle. It's a technologically advanced design that gives you power and performance – without sacrificing portability.
Reliable, efficient 4-stroke design
World-renowned Honda quality combines proven reliability and superior fuel efficiency, with no oil mixing.
More power – without sacrificing portability
With 15% more horsepower over its predecessor, this ultra light weight powerhouse produces surprising speed and maneuverability.
Lightweight and compact
The BF2.3 is incredibly light and easy to transport. Weighing less than 30 pounds, it's the ideal engine for dinghys, car-toppers and other types of small boats.
Precise Throttle Control
A twist grip throttle allows for precise throttle control. The throttle tensioner minimizes driver fatigue.
Forced air cooled engine – no water pump worries
The air-cooled block eliminates concern over clogged water pumps and debris being sucked into the powerhead, as well as reducing maintenance.
Ultra low 3 star CARB emissions – Environmentally concious technology
Environmentally conscious technology. All Honda Marine engines exceed the highest CARB 3-Star rating to meet the rigorous California Air Resource Board's standards.
True 5 Warranty – unmatched peace of mind
Honda's True 5 Warranty is the best in the business. This transferable, non-declining warranty is the same on the first day as it is on the last.
Easy to carry and install
A front mounted carrying handle provides superior portability and ease of installation.
360° swivel steering – added manueverability
Provides excellent maneuverability in tight areas as well as full thrust in reverse (at 180°).
Centrifugal clutch – better performance
The centrifugal clutch maintains a smooth idle and when advanced, automatically engages the prop above idle speed. It's like having a neutral position.
Convenient fold down tiller
The BF2.3's tiller folds up or down for easy stowing.
4-Front Corrosion Protection System – Fights the elements
A patented, "Double Sealed" multi-layered paint process, sacrificial anodes, stainless steel technology, and waterproof connectors enhance corrosion protection.
Internal fuel tank – easier portability
With 12% more capacity over its predecessor, the BF2.3 now runs up to 60 minutes at full throttle on a tank of fuel. The internal tank facilitates easy removal and portability as a single unit.
Easy maintenance
Convenient oil fill and drain.
Steering friction adjustment
Allows you to adjust steering tension for ease in maneuverability.
Shallow Water Drive
Allows you to run in shallow water and greatly reduces the risk of engine damage.
Propeller included
A shock resistant plastic propeller comes standard.
Carburetor drain screw for easy storage prep
Allows quick and easy draining of the carburetor's float bowl for extended storage periods.
Dual lockable transom clamps
Provides extra security when mounted to the transom.
Sheer and cotter pin keeper
The self-contained keeper stores two extra sets of cotter and sheer pins close at hand, so you'll be prepared if and when you need them.
15 and 20 inch configurations
Available in 15″ or 20″ configurations to meet your specific application.