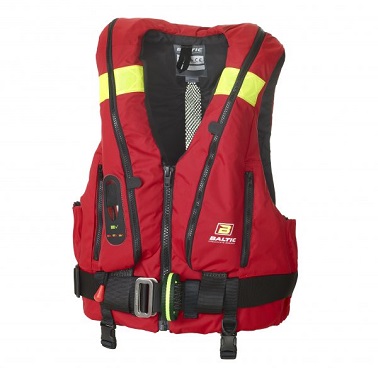 HYBRID 220 Auto/Harness
Article number: Auto 1711-007-1
Size: 60-120 kg
Hybrid is a lifejacket which has 55N inherent buoyant material and a 165N inflatable lung.
The Hybrid comes with automatic inflation or manual only inflation. Two zipped pockets, retro reflective patches and double crutch straps, integrated safety harness approved to EN ISO 12401.
WHICH MODEL SHOULD I SELECT?
A good buoyancy aid rated to 50Newton class will support a person over 25 kg with a good freeboard but will still require the wearer to be a good swimmer as it will not turn you over into the safe back position. This category contains all–purpose, specialist buoyancy aids and floatation clothing. These are popular products because they have a perfect balance between function, freedom of movement and security.
If you require more buoyancy or are a non-swimmer you should look at our 100Newton lifejacket selection and these are available in sizes to suit persons from 3 kg to over 100Kg. We would like to point out that we are especially proud of our children's 100Newtons lifejackets. Should you require more freedom of movement and extra buoyancy please look at 150 Newton inflatable lifejackets.
NEWTON CLASSIFICATION FOR LIFEJACKETS AND BUOYANCY AIDS
50 Newton Class / EN ISO 12402-5
Buoyancy aids and floatation clothing that hold a person afloat with a greater safety margin. Must be used by swimmers only as they do not help you onto a safe back position in the water. For person 25kg and over.
100 Newton Class / EN ISO 12402-4
Inherent foam lifejackets with the buoyancy concentrated to the front and collar to help a person turn over onto the safe back position. Suitable for swimmers and non-swimmers.
150 Newton Class / EN ISO 12402-3
Inflatable lifejackets with good turning capacity when inflated. Can be inflated manually or automatically. For persons 40 kg and over.
275 Newton Class
Inflatable lifejackets with extremely good turning capacity. Manual or Automatic inflation. For persons 40 kg and over.
WHICH SIZE SHOULD I SELECT?
It is more important that a lifejacket should be selected for fit and comfort and not to be able to ride up rather than the weight category indicated on the label. For children, this is especially true and the lifejacket should never be purchased to "grow into".