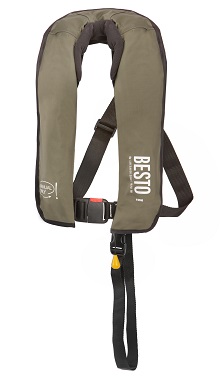 BESTO FISHERMAN NH Manual
CE EN396 / ISO12402-2
Specifications
| | |
| --- | --- |
| Article number | 20427526 |
| title | BESTO FISHERMAN 165N NH Manuel |
| EAN | 8711497625233 |
| Buoyancy Newton | 165N |
LIFEJACKET 165N "FISHERMAN" STYLE
Special series of Inflatable lifejackets for fishing and hunting made in green outer cover. With its short top to bottom length, the lifejacket is very comfortable to wear. The tailored waist is designed for maximum freedom of movement. The collar is provided with a special soft foam fabric for optimal comfort around the neck. The deep wade is especially developed for fishermen.
SPECIFIC MARKS
• United Moulders MK5 Manual
• CO2 Cylinder: 31 – 33 gram – 165N
• Green Cover
• Crotch strap
Rather go on the water than in the water!
If you fall in the water unexpectedly, Besto offers the BEST rescue. People with attention to safety choose Besto lifejackets.
BESTO Tip:
Do not save money when buying a lifejacket or buoyancy aid.
They can be your last resort!
Buying tips:
Buy a lifejacket that matches your weight and the activity that you are planning to do on the water.
A life jacket should be comfortable to wear and give you enough freedom of movement. For children never buy a jacket that is too large.
Always buy a lifejacket which states, how to use and maintain it.
When buying a lifejacket take into account the clothing you will be wearing on the water. Clothing can counteract the working of the jacket.
How do you maintain your BESTO lifejacket?
Do not perform any repairs on the lifejacket yourself.
Return the lifejacket to your dealer or contact Besto. 
Rules for maintenance and/or use of lifejackets
Please note: A lifejacket or buoyancy aid will only be effective when:
» you have chosen the right category and model according to the kind of use required.
» you have chosen the right size according to the weight of the wearer.
» you wear and maintain the lifejacket according to the enclosed manuals.
» you wear the lifejacket each time when there is a risk of falling into the water.
» you never wear it underneath your clothing or jacket.
» you test the lifejacket before using it. Check if the lifejacket is armed and if
needed (teach your children how to turn and/or float in their lifejacket