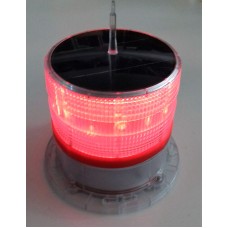 Solar Navigation Light Red 360° 2-3 nautical miles
Solar Navigation Light Type 201, Red, 2-3 Nm
The Solar Photodetector 201 is a popular, stand-alone, compact, multi-purpose, 2 to 3 nautical mile radius. Made of durable polycarbonate material, it incorporates state-of-the-art high-tech LEDs.
The illuminator has an ON / OFF switch to select dimming, blinking or off for long-term storage.
During the day, the built-in Photovoltaic Collector charges the battery located in the waterproof portion of the photodetector and the photodetector starts to work at dusk and turns off at dawn automatically.
The battery can be easily replaced.
The illuminator has a spike to prevent birds from standing on its roof, which prevents the solar collector from charging the battery.
It is suitable for high demand applications. Used in ports, buoys at sea or other floating structures. It is also mounted on pillars, antennas, coves, bridges and tall buildings, where elaborate lighting is required elsewhere for long range visibility.
Specifications:
Charging Source: Sunlight
Light Source: 16 ultra-bright LEDs
Visibility: 2-3 Nautical Miles
Lighting Color: Red
Function option: Continuous Lighting or 30 flashes / minute.
Light intensity selection at 25%, 50%, 75% and 100%
Photovoltaic Cell: Monocrystalline (2.5W – 9V)
Batteries: Lithium Rechargeable 7.4V – 4000mAH
Operating autonomy (full charge): 140 hours as flashing and 60 hours as constant
Built-in overload protection circuit
Average battery life: over 2 years
Waterproof: IP 68
Dimensions: (H) 195mm x (Ø) 183mm
Weight: 1.35 kg
Certification: CE, ROHS
Warranty: 2 years