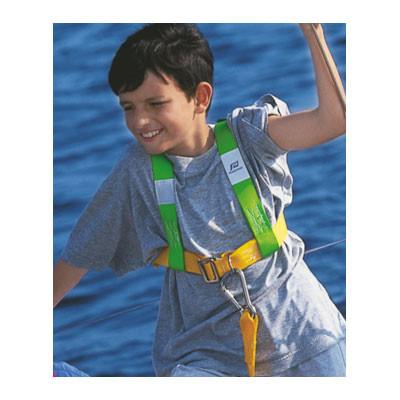 PLASTIMO SAFETY HARNESS WITH 2 HOOK SINGLE STRAIGHT TETHER (Safety Line)
HARNESS & TETHER PACK
Simple adjustable waistband safety harness.
Attachment point for tether : Stainless Steel Ring
Yellow flat tether 1,5 m. St. steel safety hook(s).
PLASTIMO TIPS & TRICKS
Try your harness on
A safety harness is a personal piece of equipment : the straps must be perfectly adjusted to your body size. Try it on, adjust it, get to recognise every strap. If you wear your harness with an inflatable lifejacket, the harness must be worn under the lifejacket.
Keep your harness in good condition
A safety harness is a fundamental piece of equipment for your safety : as opposed to a lifejacket, on which buoyancy can be tested and possible ageing signs are visible, a harness can loose some of its original qualities without there being any visible signs.
• Rinse it with fresh water after use.
• Check the seams regularly.
• Never store it in a damp locker.
• Discard and replace systematically a harness showing evidence of wear and tear or a harness which has been submitted to tension. We recommend that racers should replace their harness every year, in view of their intensive use and exposure to UV-rays.
• Never use a harness for any other purpose than the one which it is designed for.