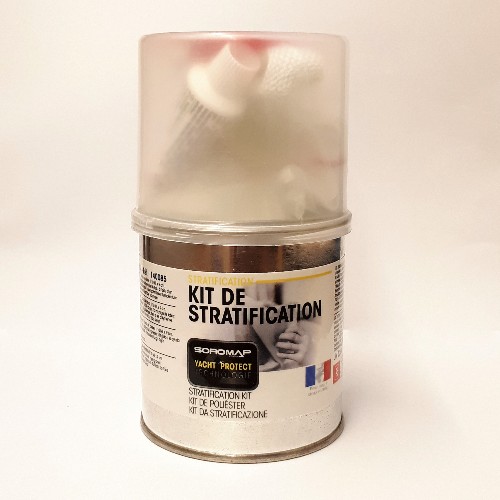 Lifeboat Repair Kit SOROMAP
Ideal for small repairs on polyester (boats, windsurfers …)
Contains:
250 g of polyester resin
5 g of hardener
1 band of taffeta 1.10 ML x 9 cm
PHYSICAL CHARACTERISTICS
Color: Translucent, reddish
Thickness: About 1.15 g/ml
Preparation time: 4.7 minutes
PREPARATION OF THE SURFACE
The surface must be clean, dry and dust free. Free oil and grease, sand well before treatment.
PREPARATION OF THE PAINT
Mixing ratio: Resin 98 % + Hardener 2 %
Do not put more than 3 % hardener and less than 1.5 %
APPLICATION
Mix the resin with hardener. Apply evenly over the surface to be treated. Spread the band taffeta. Apply by pressing with a brush for example. Then, apply a new layer of resin. After about 20 minutes, we can apply the putty polyester normally.
CHARACTERISTICS FOR USE
Do not use at temperatures below 5°C. The ideal temperature of treatment is between 15 and 20°C.
PACKING AND STORAGE
9 months in unopened.
Recommended storage temperature 5 – 35°C. Protect against freezing.
PRECAUTIONS FOR USE
Use protective gloves, masks and clothes.
Work in a ventilated area; an accumulation of solvents can catch fire if exposed to a naked flame or a spark.