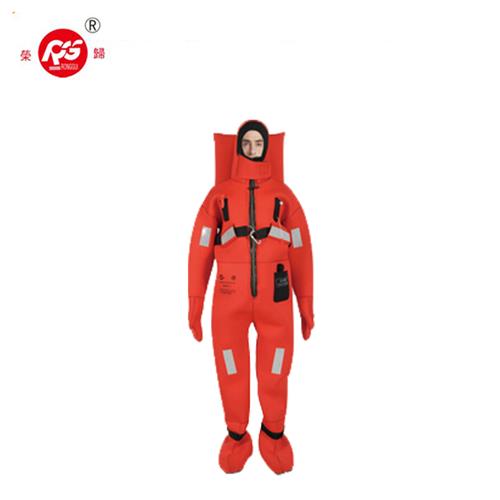 Immersion Suits Solas MED Approved RSF-II impa 330195 UNIVERSAL SIZE 140-190 cm – 140kg
Description:
Neoprene Immersion Suit abandonment suit
Applicantion: for where the cold water shipping area, Navy, fishing vessels, offshore, cargo & passenger ships
Main functions: the body temperature does not fall more than 2 degree after immersion in 0 C cold water for 6 hours
our immersion suit is designed with a buoyancy pillow, so does not need additional life jacket.
Material:NEOPRENE (5mm thickness)
Pillow: it is designed with a buoyancy pillow, so do not need extra lifejacket.
reflective tape: SOLAS reflective tape,5cm x 10cm
Zipper:  67cm length water tight zipper with plastic puller.
Gloves: 3 finger Neoprene gloves
belt: black webbing belt with steel D-ring.
Boots: Neoprene Material with Rubber sole
Cold Water Neoprene Immersion Suit Accessories: water-proof Light, whistle.
printing: customerized Printing, OEM services.
Buoyancy: >142N