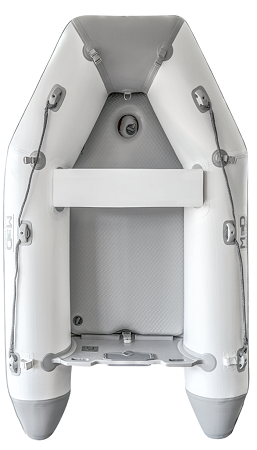 Tender SOFT LINE 270
THE LIGHTWEIGHT, FAST, EASY-TO-STEER TENDER
The Soft Line model is the most appreciated among our folding tenders thanks to its high-pressure inflatable flooring. MED Group manufactures one among the smallest models currently available on the market.
The inflatable keel reproduces the traditional V-shaped hull and provides the pilot with easy handling, stable supports and extreme comfort thanks to the inflatable flooring.
All models can be easily transported and stowed. Moreover, the Soft Line tenders are significantly much lighter than competitors of the same size and therefore more easy to manage.
The Soft Line craft is the perfect tender for anyone seeking the best possible compromise between portability and performance. Easy to steer even in rough sea, it features excellent planing performance.
The "Easy System" technology, developed my MED Group, allows to fold boats of all sizes, without having to extract the flooring, and makes disassembly much easier.
Repair Kit

Paddles

Inflator (Bellow)

Wooden Bench
ADVANTAGES
Stable and practical surface
Handy and easy to stow
Suitable for small boats
Lightweight
Tube with 3 chambers
OPTIONAL EQUIPMENT SOFT LINE 270
Code
Description
Price €
BTA-P09TN
BOAT COVER
€47.00
BTA-R31TN
BOW SHELF-BAG KIT
€21.00
BTA-R43TN
FIX-BENCH SHELF-BAG
€21.00