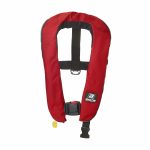 WINNER MANUAL RED
Model: Unisex
Article number: 1585-000-1
Size: One size 40 – 150 kg
Our top selling model of lifejacket in an updated design. Only manual activation/inflation! Strong outer fabric and fitted with an detachable crutch strap. Buoyancy 165N.
Buoyancy 150 Newton
The buoyancy of a lifejacket is measured in the Newton unit. A lifejacket must have sufficient buoyancy to keep the user's airways above the surface. The vests are divided into different classes depending on the amount of buoyancy, though the actual Newton's number may vary depending on the size of the vest.
33 gram CO2
Specifies the size of the carbon dioxide cylinder used on inflatable products. The cylinder must be checked before each us
Manual Inflaltion
NOTE! The product has no sensor for automatic inflation and can only be activated manually.
A manual lifejacket does not have an automatic inflation sensor and must be activated manually by the user.
Product with 5 year guarantee.
INFLATABLE LIFEJACKETS ALLROUND
Our versatile lifejackets can be used in almost all circumstances, all models are equipped with a fleece collar, detachable crutch strap, on most models you have the option of either the buckle or integrated safety harness.