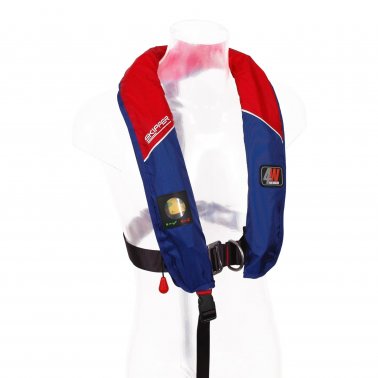 SKIPPER 150N SELF HARNESS VEST
Code: GI502333 Navy Blue
Inflatable Skipper vest, with ultra-compact folding of the bladder. Its short cut allows great ergonomics and thanks to its very flexible outer fabric, you benefit from better comfort.
Skipper Inflatable Vest with Harness and Crotch Strap:
– Very flexible outer fabric
– Velcro closure.
– Integrated harness: 316 stainless steel buckle with stainless steel D for the lanyard.
-Vessie fluorescent yellow PU very flexible, separable from the cover
Automatic release UML MK5.
Firing pin status display window
Accessories:
– Crotch strap
– Location provided for individual flash lamp
– Delivered in a mesh bag.
-> Regulatory all yachting categories
-> ISO 12402-3 12/2006 + A1 07/2010 and ISO 12401: 2009 homologation (harness),
 inflatable vest
 150N
 165N
 With
 SKIPPER
 automatic UML
 55 to 130 cm
 min. 40 kg
in a mesh bag
 Blue red
 3477440011779
 1.15
 0.00
 41
 7
 no
 Yes
 31