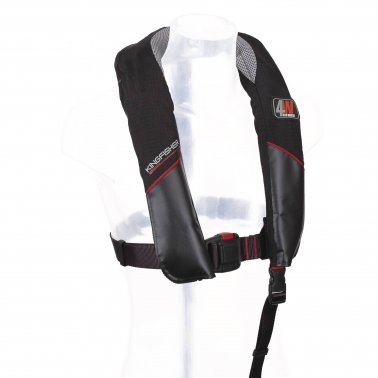 BLACK KINGFISHER VEST 150N MANUAL
Code: GI516033
Kingfisher inflatable vest, very light thanks to its flexible bladder and ultra-flat folding, equipped with a short cut cover for better ergonomics.
DESCRIPTION
The Kingfisher inflatable vest with removable crotch strap:
– Very resistant ripstop outer fabric.
-PVC reinforcement for easy maintenance and against wear
-Zipper closure.
-Polyester straps
-Quick nylon buckle.
With UML micro manual striker 
Accessories: –
Crotch strap (removable).
-Placement provided for an individual flash lamp
Delivered in a mesh bag.
TECHNICAL CHARACTERISTICS
 inflatable vest
 150N
 165N
 without
 KINGFISHER
 manual
 55 to 130 cm
 Min. 40 kg
 in mesh bag
 Black
LOGISTICS DATA
 3477440012011
 1
 0.00
 33
 6
 no
 no
 51