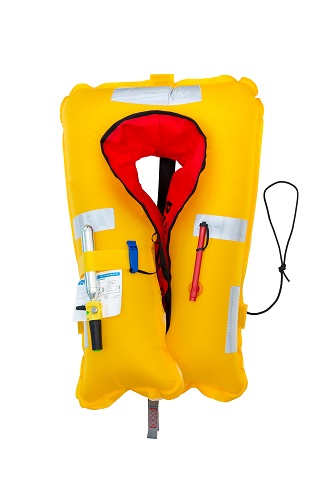 150N SOLAS MED Adult Auto Inflatable Lifejacket EVAL Ithaca 04743-1 Nylon Red
1 Auto Inflation UML5 Inflatable Chamber and 1 Manual Inflation Inflatable Chamber  
impa330166SOLAS INFLATABLE LIFEJACKETS – L.S.A. CODE 96/98/EC IMO MSC 81(70), MSC.200(80) & MSC.207(81)
PPE Directive 89/686/EEC,EN ISO 12402-2/EN ISO 12402-3/EN ISO 12401                                   
Inflatable lifejackets ITHACA 150N and ITHACA 275N have been produced according to latest SOLAS regulations. They are suitable for offshore use under extreme weather conditions with full weather clothing, thus they can be installed on all commercial and navy ships, professional fishing boats and mega-yachts. Inflatable lifejackets ITHACA have been designed according to strictest lifejacket standards and can be used at most extreme conditions.
Especially, ITHACA 275N is the optimum model among Eval lifejacket range and gives to the user the maximum buoyancy and safety.
The fi rst bladder is inflated either manually, or automatically after the user drops into water, while there is also a manually activated back up infl atable bladder for emergency.
Lifejacket features:
Twin chamber system
UML inflators
Oral tubes
Overpressure relief valve
Lifting loop
Buddy line
Velcro-closing cover
ΕΝ ISO 12401 integrated safety harness
ISO 12402-8 approved whistle
SOLAS approved retro-reflective tapes
ISO 12402-7 approved materials
Min. user's body weight 43 kg
Max. user's chest circumference 175 cm
Compatible with EVAL SOLAS lifejacket lights
Optional single crotch strap (code 02947)
Extra fire resistant cover (code 02933-2)
NEWTON CLASSIFICATION FOR LIFEJACKETS AND BUOYANCY AIDS
50 Newton Class / EN ISO 12402-5
Buoyancy aids and floatation clothing that hold a person afloat with a greater safety margin. Must be used by swimmers only as they do not help you onto a safe back position in the water. For person 25kg and over.
100 Newton Class / EN ISO 12402-4
Inherent foam lifejackets with the buoyancy concentrated to the front and collar to help a person turn over onto the safe back position. Suitable for swimmers and non-swimmers.
150 Newton Class / EN ISO 12402-3
Inflatable lifejackets with good turning capacity when inflated. Can be inflated manually or automatically. For persons 40 kg and over.
275 Newton Class
Inflatable lifejackets with extremely good turning capacity. Manual or Automatic inflation. For persons 40 kg and over.
WHICH SIZE SHOULD I SELECT?
It is more important that a lifejacket should be selected for fit and comfort and not to be able to ride up rather than the weight category indicated on the label. For children, this is especially true and the lifejacket should never be purchased to "grow into".