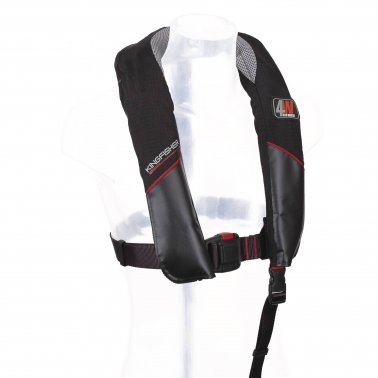 BLACK KINGFISHER VEST 150N AUTO
Code: GI516333
Kingfisher inflatable vest, very light thanks to its flexible bladder and ultra-flat folding, equipped with a short cut cover for better ergonomics.
DESCRIPTION
Very short cut for better ergonomics.
Very resistant ripstop outer fabric.
PVC reinforcement to prevent wear and facilitate cleaning.
Zip closure.
Very comfortable mesh collar
Polyester straps.
Nylon quick buckle.
Automatic striker UML MK5
Accessories: –
Crotch strap (removable).
-Placement provided for an individual flash lamp
Delivered in a mesh bag.
TECHNICAL CHARACTERISTICS
 inflatable vest
 150N
 165N
 without
 KINGFISHER
 automatic UML
 55 to 130 cm
 Min. 40 kg
 in mesh bag
 Black
LOGISTICS DATA
 2000003313877
 0.5
 0.00
 35
 5
 no
 no
 51