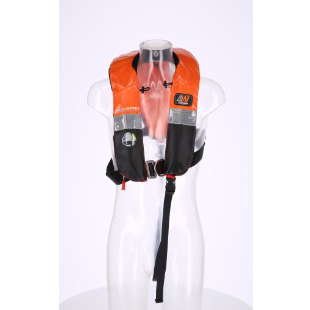 INDUSPRO 150N AUTO PRO VEST
Code: GI526433
Induspro 150N vest with harness, equipped with a ProSensor automatic striker and removable crotch strap.
The Induspro vest offers great comfort and very good resistance to abrasion and external agents.
Its PVC cover with retro-reflective bands accentuates the wearer's safety and visibility. 
Short cut for better ergonomics.
Locking system of the CO² cartridge preventing accidental unscrewing of the latter.
Very resistant PVC outer fabric.
All polyester straps.
Fabric back for easy donning.
Mesh lined collar.
Zip closure.
316 stainless steel buckle with stainless steel D for lanyard.
Retro-reflective bands on the front and back.
Toggles for hanging on a jacket.
Automatic striker ProSensor
Windows for viewing the firing pin status.
Detachable crotch strap.
Location for username.
Space provided for an individual flash lamp.