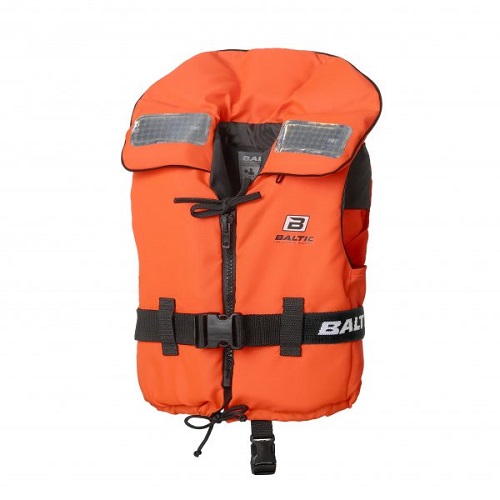 BALTIC ORIGINAL 15-30 KG
Models: Unisex and children
Article number: 1240
Size: Children 15 – 30 kg.
Classic life jacket in durable high-visibility fabric. Heavy waistband and crotch strap. Powerful zipper. Upper and lower tie straps and reflexes on the collar. Size 15-30 kg has an easily accessible lifting handle at the neck.
If the vest has become wet, it is quickly dried by hanging on the hanger.
Wash the vest with lukewarm water and a mild hand washing detergent or regular hand washing detergent.

LIFE JACKETS FOR BABIES AND CHILDREN
Can't you swim? No danger, you can go out on the lake anyway. Our lifejackets have a safety rating of 100 Newton, which means that in addition to keeping you afloat, it also helps to turn you into a supine position if you end up in the lake. Of course the given choice for the little kids.
WHAT MODEL DO YOU HAVE?
A good life jacket that holds a person over 25 kg floating with a good margin, but still requires swimming skills because it does not turn the person into a back position, the safety rating has 50 Newton. This category includes all-round life jackets, water sports life jackets, functional life jackets and swimwear – that is what most people choose and need. With a perfect balance between function, freedom of movement and buoyancy. Read more about what they can do under each heading.
If you need more float help so you can't swim, look at our lifejackets (100 Newton), which are available for children from 3kg up to adults over 100kg. If you want both freedom of movement, extra buoyancy and help to be turned back, you can look at our inflatable lifejackets (150 Newton). We also want to mention that we are extra proud of our special range of life jackets for children.
NEW CLASSIFICATION OF FLAT VESTS AND FLIGHT CLOTHES
50 Newton / EN ISO 12402-5 Life jackets
and floatation clothes that keep a person afloat by a good margin but require swimming skills as they do not help the user in a supine position. For swimming person from 25 kg upwards.
100 Newton / EN ISO 12402-4 Life
jackets in the 100N class have buoyancy at the front and have a large collar. The vest helps a person to a supine position. 100N life jackets are suitable for both swimmers and non-swimmers.
150 Newton / EN ISO 12402-3
Inflatable lifejackets which when inflated have good turning ability. Available with automatic or manual gas inflation. Inflatable lifejackets do not, in an inflated form, offer any carrying capacity. For persons from 40 kg.
WHAT SIZE SHOULD YOU HAVE?
A life jacket should fit! It should sit firmly, but comfortably, and not slide around the body. This is actually more important than having exactly the right weight on the label. And children should never wear life jackets "to grow in".