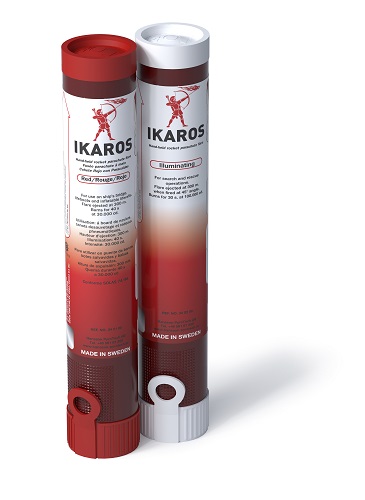 Parachute rockets
The IKAROS rocket is used for long-range distress signaling on ships, lifeboats and life rafts. When activated, it launches a flare to attract the attention of rescuers.
The launching tube features clear instructions for use, and its non-slip surface ensures safe operation even when launched with one hand. The rocket is waterproof and can be held underwater when fired.
Introduced in 1959, the IKAROS rocket has a design that is now used by most manufacturers around the world. As the leading parachute rocket on the market, IKAROS meets the highest demands for quality, performance, functionality and safe operation. It has been approved globally and conforms to the latest SOLAS regulations.
SOLAS / USCG Approved Product
SOLAS / USCG Approved Product