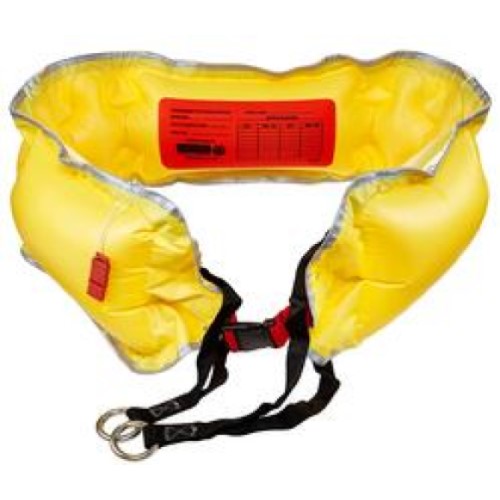 The fastest deployed
MOB system.
The MOM 8 gives you time to return to the victim in a safe and prepared manner. The completely self-contained system is designed to be rail mounted to the stern of a boat providing instant deployment into the water near the victim.
The Underarm Flotation Device will keep the victim afloat, while the pylon fitted with reflective tape and an LED light provides excellent visibility. The weighted sea anchor will ensure that the victim remains in the same location. With the durable lifting straps, getting a victim back on board becomes easy. When brought along side, the victim can be lifted vertically by attaching a halyard or other device to the durable lifting straps and eye rings on the Underarm Flotation Device.
Rail mountable
single pin deployment.
With the MOM 8-A the only focus is on pulling a single pin. Located on the top of the canister is a deployment handle, which when pulled, releases the bottom of the canister and allows the inflatable devices to automatically inflate while falling into the water. Buy the extension kit for a wider vertical gap between railings for mounting.
The MOM 8-A has a 2 year service interval. Service must be performed at a SWITLIK authorized MOM Service Center.
Inflatable pylon
with locator light.
When inflated, the ballasted Locator Pylon has a 6-foot waterline height. Located on top of the pylon is a water-activated, lithium-powered, flashing light with 5 years of life. The light can be seen nearly one nautical mile away under normal night conditions. The pylon has 2 SOLAS reflective panels to aid the boat's search.
Weighted drogue bag
Don't float away.
Tethered to the horseshoe and the pylon is a 16″ diameter, ballasted, self-opening Sea Anchor to reduce downwind drift keeping the victim in the same position as when they went overboard.
Approved by World Sailing and the Pacific International Yachting Organization
The MOM 8-A meets World Sailing Offshore Racing Special Regulation 4.22.1 for Man Overboard Lifebuoys and the Pacific International Yachting Organization Special Regulations as Life Saving Equipment in Section 5.6. The MOM 8-A is the sailing safety standard.
Technical Specifications
Certifications: 
World Sailing Offshore Racing Special Regulation 4.22.1 for Man Overboard Lifebuoys
Pacific International Yachting Organization Special Regulations as Life Saving Equipment in Section 5.6
Canister:
Dimensions:
14.5″H x 11″L x 4.25″W
Weight:
22 lbs. packed
Material:
Molded Polyethylene
Case Color:
White
Rail-mounting hardware:
Clamps (⅞", 1″, 1⅛", 1¼" sizes) + all necessary stainless nuts, bolts and fastpins
Optional Rail Extensions:
Part no. 840022 (necessary on boats with rails with more than 11" of separation, the extension rails allow for up to 18″ of separation between two parallel rails)
Underarm Flotation Device:
Material:
Double Coated Polyurethane Nylon (210D)
Buoyancy:
35 lbs.
Inflated Color:
High Visibility Yellow
Inflation:
33g – CO2 cylinder
Lifting Straps:
1″ wide nylon webbing with 2 S.S. D-rings.
Tethers
3/8″ Floating line
Sea Anchor
16″ diameter
Pylon:
Waterline Height:
6 ft.
Material:
200D yellow urethane-coated nylon
Color:
Yellow
Reflective Panels:
72 sq. inches
Ballast:
8 lbs.
Auto Light:
8 hr. flashing