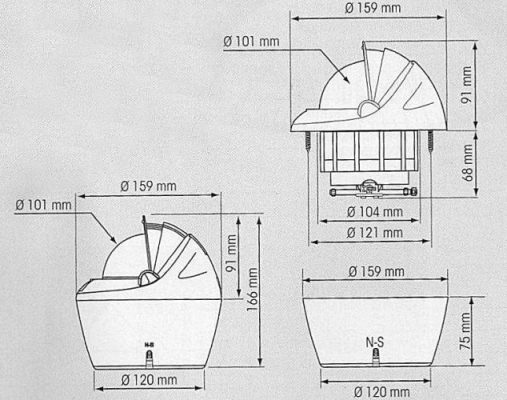 Binnacle mount on

horizontal

surface.
Plastimo Offshore 115 compass
Powerboats 8 to 12 m (26 to 40 ft).
UNIVERSAL BALANCE : around the world with one single compass
Features
OFFSHORE 115
Boat size
Powerboats of 8 to 12 metres (26 to 40 ft).
Compass card
Flat card graduated every 5°, apparent Ø 101 mm.
Heading numerals every 30°.
Hood
Articulated protective hood : built-in sliding cover, composed of 3 telescopic  parts, with cushioned closing.
Mounting
Binnacle mount, on a horizontal surface only.
Resistance to vibrations and hull pounding

Magnetic cell equipped with the unique "Vibration Absorber" system : minimal contact between the pivot and the sapphire cup  (tested by independent laboratory).

Lubber line
1 lubber line.
Compensation
Supplied as standard.
Lighting
12-24 V LED, included.
 Supplied with
 Screws, drilling template.
 Approval/homologation
 SOLAS-MED 96/98.
Watertight construction
• One-piece moulded flange and bowl.
• Viton® diaphragm with extreme expansion and retraction capacity : compensates the fluctuations in fluid volume caused by differences in temperature and atmospheric pressure, preventing the formation of bubbles.
Articulated hood : built-in sliding cover composed of 3 telescopic parts with cushioned closing.
Offshore 115 by night
LED lighting : Energy saving. High resistance to shocks. Increased lifetime. Same bulb is suitable for 12 or 24 V power supply.