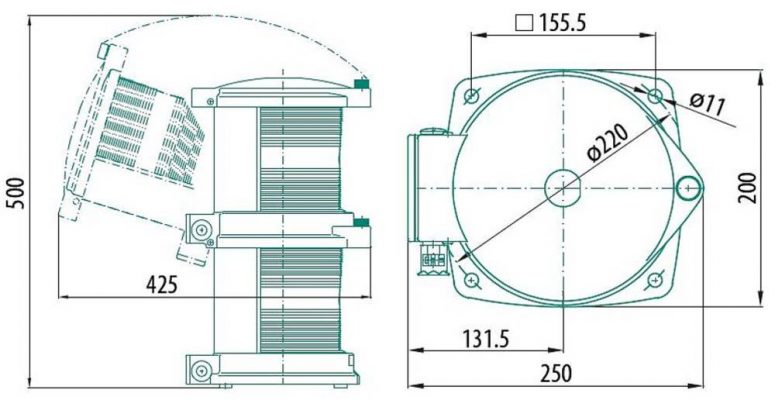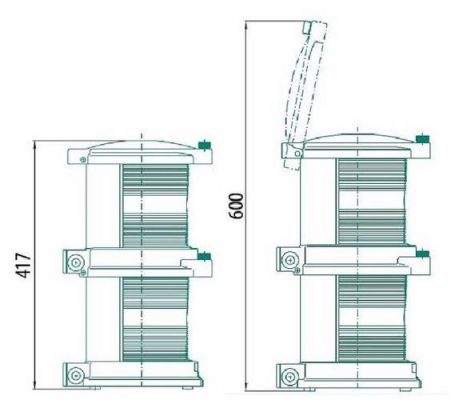 Navigation Light, Type 760 for vessels > 50m
The development of Peters + Bey GmbH:
125 years of experience in the construction and manufacture of navigation lights influenced the series of lanterns type 760.
Advantages:
Every light is equipped with its own terminal box.
Marine cable is easy to terminate straight into the light.
Durable materials and great structural strength withstand the tough sea conditions faced with every day.
Easy one handed bulb exchange due to the tilting top housing of the double lantern.
Simple exchange of spares.The modular built provides only few spares, each easy to mount.
Options:
On request the tilting mechanism may be supplied in one of 4 positions.

Marine cable 1.50m – H07 RN F2x1.5
Upon request, Peters + Bey offers customized signalling lights with the respective flag state and class of your vessel. It is necessary to recognize signal lanterns from 360 degrees without shading > 6 degrees. If shading is > 6 degrees, should result from a mast, a chimney or a superstructures, we can manufacture 2 signal lanterns with different screens, which result in together 360 degrees.
Technical data:
Approvals: BSH (Bundesamt fur Seeschiffahrt und Hydrographie), GL (Germanischer Lloyd), UL 1104, MED
Housing: Black polyamid, glass fibre reinforced, shock resistant, non corrosive, non magnetic, seawater resistant, with stainless steel screens (1.4571)
Connection: Terminal box on every light.
Bulbholder: P 28 s.
Lens: PMMA.
Water proof: EN 60945 (equivalent to IP 56)
Alternative navigation light to codes: 3075009 ,