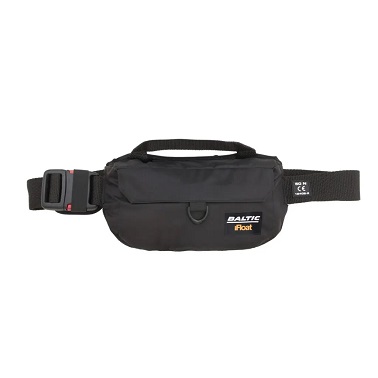 IFLOAT SUP BUOYANCY AID
iFLOAT SUP is a flexible manual inflatable lifejacket with 50N carrying capacity. The lung is pulled out of the bag that is carried around the waist, pulled over the head and activated manually. Recommended only for people who can swim. Suitable for SUP activities where the user wants maximum mobility. NOTE! We recommend that the user become familiar with this lifejacket before use in emergency situations.
5 year warranty
Low weight
Manual inflation
Designed in Sweden
Made in Europe
Buoyancy 50 Newton
The buoyancy of a lifejacket is measured in the Newton unit. A lifejacket must have sufficient buoyancy to keep the user's airways above the surface. The vests are divided into different classes depending on the amount of buoyancy, though the actual Newton's number may vary depending on the size of the vest.
16g CO2
Specifies the size of the carbon dioxide cylinder used on inflatable products. The cylinder must be checked before each use.
Manual inflation
NOTE! The product has no sensor for automatic inflation and can only be activated manually.
5 year guarantee
Product with 5 year guarantee.
Customer Service
If you want to get in touch with us or get our expertise in product selection, we can be reached below.
Email: [email protected]
Phone: +30 210 4136035, +30 210 4610288
We are available for your support weekdays between 09.00 – 17.00.