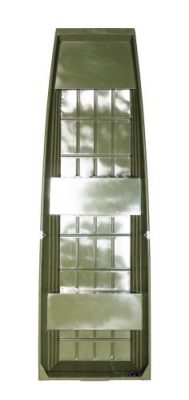 Marine Jon 12 Green
Application: Ideal boats for the serious fisherman. The 10, 12 and 13 Jon models are suitable for car rooftop transport. Models 14, 15 and 16 Jon are suitable for higher powered engines and also for load transport. All we can say is "enjoy your fishing!"
Advantages: Good stability combined with low weight. High capacity.
Jon boats
Ideal boats for serious fishermen.
These boats offer flat bottom, good stability and very low weight. Small 10, 12, 13 Jons are transportable on the top of each car. Bigger boats are designed for higher powered engines and they can also be used for transport of any load. All we can say is: Enjoy your fishing! These are ideal for fishing in the stagnant water.