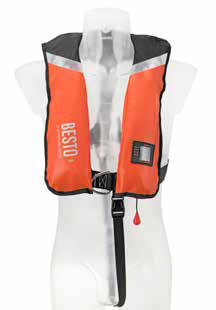 Lifejacket 300N Professional / Worker Style. Wipe Clean Orange PVC Cover
The Besto inflatable 300N is an ergonomic offshore
working jacket and can be used with:
• Extreme weather
• When wearing heavy protective waterproof
clothes. The lifejacket remains safe and will
rotate the body so the airways are clear of the
water. Besto offers different types of working
jackets of 300N.
All available Covers and Colours
• Wipe clean yellow
• Wipe clean orange
• Wipe clean black
• Fire retardant
• Fire retardant "Welder" to protect the eyes
against welding.
SPECIFIC MARKS
•
Clear Indicator Window/System
• "All Weather Cartridge"
• Luxury Mesh Bag
• CO2 Cylinder: 60 gram – 300N
ACCESSORIES

Art. no. Description
20.427.016 Recharge Set Auto MK5 300N
20.427.027 Recharge Set Auto CXI 300N (for
jckets up to September 2018)
20.810.092 Welders Cover
20.427.052 Recharge Set 300N 'Elite' (for
jackets from September 2018)
20.427.025 Safety Light Alcares
20.427.031 Safety Light on oral tube
NEWTON CLASSIFICATION FOR LIFEJACKETS AND BUOYANCY AIDS
50 Newton Class / EN ISO 12402-5
Buoyancy aids and floatation clothing that hold a person afloat with a greater safety margin. Must be used by swimmers only as they do not help you onto a safe back position in the water. For person 25kg and over.
100 Newton Class / EN ISO 12402-4
Inherent foam lifejackets with the buoyancy concentrated to the front and collar to help a person turn over onto the safe back position. Suitable for swimmers and non-swimmers.
150 Newton Class / EN ISO 12402-3
Inflatable lifejackets with good turning capacity when inflated. Can be inflated manually or automatically. For persons 40 kg and over.
275 Newton Class
Inflatable lifejackets with extremely good turning capacity. Manual or Automatic inflation. For persons 40 kg and over.
WHICH SIZE SHOULD I SELECT?
It is more important that a lifejacket should be selected for fit and comfort and not to be able to ride up rather than the weight category indicated on the label. For children, this is especially true and the lifejacket should never be purchased to "grow into".