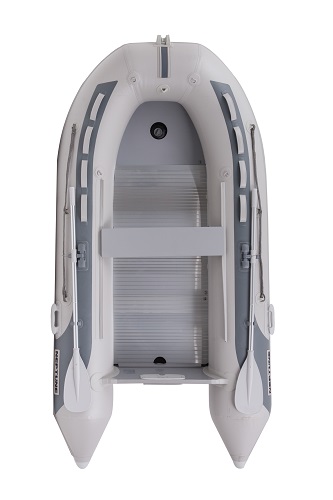 It is the usual choice for divers and fans of high performance boats, as it can be put together and taken apart quickly for ease of maintenance. It is also exceptionally resistant to impact.
The particular NEPTUNE boat series stands out for its modern design approach. Its "circle" bow reflects a point of reference for boats that promote safety, leisureliness and smooth navigability. They are available in various sizes, for all uses, with a choice of three floorings: aluminum, plywood and airmat.
CERTIFICATION: All boats bear the CE certification mark and are approved according to Recreational Craft Directive 2013/53/ΕU.
GUARANTEE: Our trust towards the quality of our boats is reflected upon the provided 5 years guarantee for the fabric and the 2 years guarantee for the seams. For professional use guarantees times apply at half.
TECHNICAL SPECIFICATIONS CONSTRUCTION MATERIAL
All NEPTUNE boats are constructed with 1100 denier polyester fabric, which is specially coated with PVC on both sides. This method is proven to be immensely strong, tear resistant and completely waterproof. In addition, NEPTUNE boats provide high levels of resistance to fuel, UV rays and everyday abrasion
REINFORCED AND WATERPROOF SEAMS
The durability of the NEPTUNE boats is guaranteed as they are manufactured with four reinforced fabric seams combined with the use of polyurethane glue. The use of polyurethane glue maximizes the resistance and protection of the boats against high temperatures and sea water.
STANDARD EQUIPMENT
Lifeline with Polypropylene rope / Oar holder / One stainless steel bow towing eye / Drain valve / 2 lifting handles / 4 stainless steel "D" ring patches / Foot pump / Inside and outside motor pad (mirrors) / Rowlocks / Two pieces aluminum oars Marine grade plywood bench / Carrying bag / Air valves / Sea wall / Boat handles / Repair kit.