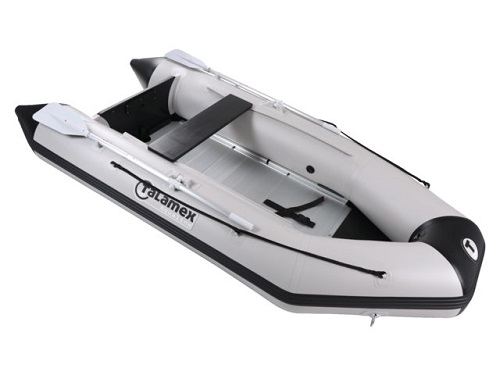 Aqualine
 QLX Aluminium floor
---
Aluminium platform floor with inflatable keel
Stiff, stable and robust
V-shaped floor for excellent sailing qualities
QLX-Aluminium floor. Robust and comfort
The Talamex Aqualine QLX with aluminium floor is a
boat with an inflatable keel. This creates a V-shaped floor
that benefits the sailing and rowing qualities. Thanks to the
V-bottom it is possible to plane the boat. The aluminium
floor ensures great firmness and stability and is almost
maintenance-free. This boat is well suited to hang in the
davits and as holiday boat. The aluminium floor requires
more time to install than an air floor boat.
Talamex Aqualine. Affordable quality
An affordable boat, suitable for young and old
with a trustworthy standard equipment. That's
where the Aqualine stands for.
The Talamex Aqualine models are complete
boats with a basic equipment manufactured of
0,7mm durable and high quality 1100 decitex PVC
fabric. The boats are equipped with an adjustable
wooden seatbench, SS lifting and towing eyes
and aluminium oars. In the standard package of
the boats is among other: a repair kit, doubleaction handpump, fueltank strap*, mooring
line and a packing bag. The boats have 2 year
warranty and all Talamex boats are CE certified by
the Dutch Marine Inspection, making them meet
all European requirements!
* except QLS series