LEGEND 190 HARNESS SLA

Legend 190 lifejacket lies further out on the shoulders and further back from the neck than other models, this in combination with soft and flexible materials makes it a very comfortable lifejacket. Legend 190 has integrated safety harness with woven loop and airy mesh lining in the back. Models with harness and SLA are approved for ocean racing according to World Sailing OSR. SLA models are equipped with light, sprayhood and bracket for AIS transmitter. Inspection window which with the valve's green indicators show that the life jacket is charged and ready for use. Detachable crotch strap and whistle included. 190N carrying capacity and is classified there as a life jacket.
A life jacket saves lives. It is designed to always turn the user to the supine position and keep the airway above the surface of the water by a good margin, even if the user has lost consciousness or is unable to swim. Lifejackets are available with an inflatable lung or with fixed buoyancy material, common to all of them is that in the activated position they have most of the buoyancy on the front and a firm collar that supports and holds up the head. A life jacket is the obvious choice for people who cannot swim.
Lifejackets always have a carrying capacity of at least 100N. The inflatable models are divided into different classes depending on the conditions under which they are to be used. An automatic life jacket inflates when the user ends up in the water, while a manual life jacket must be activated by the user.
5-year warranty
190N load capacity
Approved according to World Sailing OSR
Designed in Sweden
Made in Europe
AREA OF ​​USE
POWERBOAT
Open boat

40%
Vacation boat/Cruiser

40%
SAILING
Match race

80%
Offshore OSR

100%
Vacation boat/Cruiser

50%
FUNCTIONS
Approved according to OSR
Approved for ocean racing according to World Sailing OSR Offshore Special Regulations (OSR)
Sprayhood, emergency lights and AIS
This product is equipped with a sprayhood, emergency light that is activated manually or when submerged in water and has an attachment for an AIS transmitter (Automatic Identification System, available accessory not included).
Buoyant force 190 Newtons
The buoyancy of a life jacket is measured in the unit Newton. The life jacket must have sufficient buoyancy to keep the user's airway above the surface. The vests are divided into different classes depending on the amount of buoyancy, however the actual Newton number may vary depending on the size of the vest.
38g CO2
Indicates the size of the carbon dioxide cartridge used on inflatable products. The cartridge must be checked before each use.
Automatic inflation
The product is equipped with a UML Pro-Sensor Elite for automatic inflation.
Integrated safety harness
The product has an integrated safety harness approved according to EN ISO 12401.
With crotch strap
The product is equipped with a removable crotch strap.
With a whistle
The product is equipped with a whistle approved according to EN ISO 12401.
5 year warranty
Product with 5 year warranty.
RACE Category INFLATABLE LIFEJACKET
Lifejackets in this category are designed for active sailing and especially to be comfortable to wear for long periods. All lifejackets in the Racing category are available with integrated spray hood and lifejacket light to comply with the current international yacht racing regulations.
Spare Parts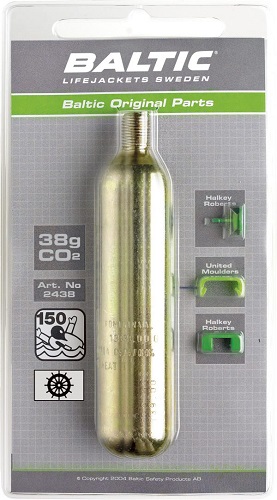 38 G CYLINDER WITH SAFETY INDICATORS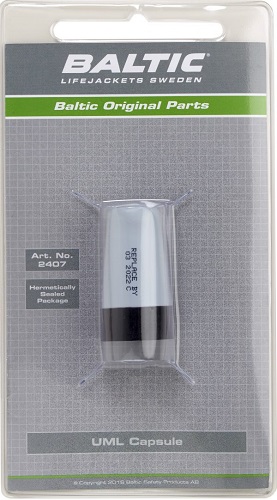 CAPSULE UNITED MOULDERS
WHICH MODEL SHOULD I SELECT?
A good buoyancy aid rated to 50Newton class will support a person over 25 kg with a good freeboard but will still require the wearer to be a good swimmer as it will not turn you over into the safe back position. This category contains all-purpose, specialist buoyancy aids and floatation clothing. These are popular products because they have a perfect balance between function, freedom of movement and security.
If you require more buoyancy or are a non-swimmer you should look at our 100Newton lifejacket selection and these are available in sizes to suit persons from 3 kg to over 100Kg. We would like to point out that we are especially proud of our children's 100Newtons lifejackets. Should you require more freedom of movement and extra buoyancy please look at 150 Newton inflatable lifejackets.
NEWTON CLASSIFICATION FOR LIFEJACKETS AND BUOYANCY AIDS
50 Newton Class / EN 393 / EN ISO 12402-5
Buoyancy aids and floatation clothing that hold a person afloat with a greater safety margin. Must be used by swimmers only as they do not help you onto a safe back position in the water. For person 25kg and over.
100 Newton Class / EN 395 / EN ISO 12402-4
Inherent foam lifejackets with the buoyancy concentrated to the front and collar to help a person turn over onto the safe back position. Suitable for swimmers and non-swimmers.
150 Newton Class / EN 396 / EN ISO 12402-3
Inflatable lifejackets with good turning capacity when inflated. Can be inflated manually or automatically. For persons 40 kg and over.
275 Newton Class EN ISO 12402-2
Inflatable lifejackets with extremely good turning capacity. For industrial use only. Manual or Automatic inflation. For persons 40 kg and over.
WHICH SIZE SHOULD I SELECT?
It is more important that a lifejacket should be selected for fit and comfort and not to be able to ride up rather than the weight category indicated on the label. For children, this is especially true and the lifejacket should never be purchased to "grow into".