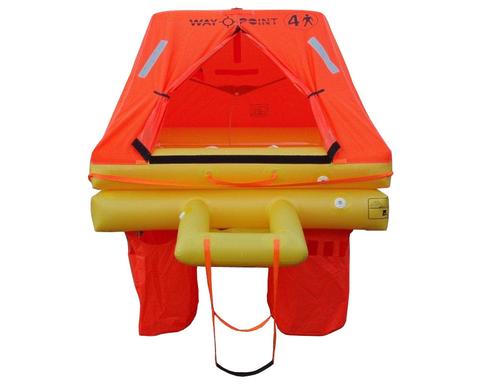 Description:
Fully tested to the ISO 9650-1 Group A specs, the Waypoint ISO 9650-1 Ocean Elite liferaft is  one of the best liferafts in the market today for the ocean sailor.
It complies and exceeds the ISO 9650-1 Group A regulations for < 24 hrs and also > 24 hrs (with additional extra equipment). It meets the MCA code of practice and complies with the ISAF regulations for Ocean Racing worldwide.
The Ultimate liferaft to have on board.
• European built in our own factory.
• Fabric developed by us and made in the U.K.  PU laminate with almost indefinite life. Complies with the ISO 9650-3 directive for fabric.
• SOLAS approved, European made, inflation system
• It is constructed with 4 independent chambers. Two tubes, an inflatable boarding ramp and the arch. All deploy automatically.
• Large inflatable boarding ramp. Makes boarding the liferaft very easy under the roughest of Ocean sea conditions. The ramp used on the Waypoint Ocean is longer than other ramps and acts as a slide, thus making boarding easy for anyone.
ONLY Waypoint fits this type of inflatable ramp on an ISO 9650-1 liferaft.
• Double floor with a patented thermal floor gives maximum protection from the cold sea water.
• 4 large, (75 litres each) water ballast pockets underneath, in excess of the ISO 9650-1 standard.
• Bright nylon Flo orange self erecting canopy, with a large zip operated entrance, which also has a large overlapping flap to stop water entering in extreme weather conditions.  Strips of Solas reflective tape on all the sides of the canopy and on the floor make the liferaft visible in the dark even if it is capsized..
• SOLAS approved external and internal LED lights with lithium battery and manual control
• Rainwater collection system.
• Observation window.
• Air ventilation / circulating window.
• Pictograms are used for instructions- No language barrier.
• Outlet for radar reflector pole (required when fitted with a SOLAS B pack)
• All packed shortly before dispatch, in our U.K. facility, offering to the end user a full 3 year use before servicing.
• The Waypoint ISO 9650-1 Ocean is vacuum packed to add greater protection from the elements.
• 3 year Service.
Avaialble in 4, 6, 8, 10 and 12 man in a valise or a container
1 x Rescue Quoit & 30 m. Line
1 x Sea Anchor & 30 m. Line
1 x Flo Orange Floating Safety Knife
2 x Paddles
1 x Bailer
2 x Sponges
1 x Pump (bellows)
1 x Repair Kit
1 x Whistle
1 x Table of rescue signals
1 x Heliograph (Signalling mirror)