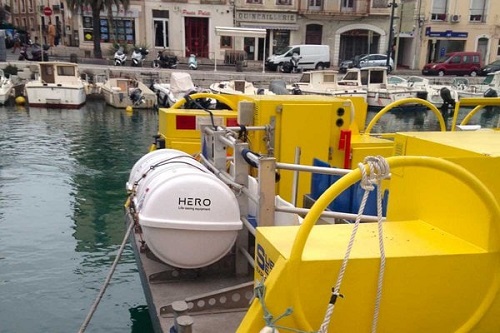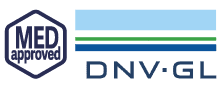 HERO YACHT & COMMERCIAL (Throw Over Board liferaft)
Liferaft mainly used for commercial vessels, yachts and mega yachts (from 24 meters / 80 foots) in all navigations (worldwide).
HERO YACHT AND COMMERCIAL are used for all major flags.
Emergency pack in accordance with the SOLAS A or B (Ships Wheel)
Vacuum sealed
Packaging: Stored in fiberglass container, round or "low profile" rectangular.
Maximum stowage height: up to 36 meters
Capacity: 6 to 25 passengers.
Approval:
In accordance with the latest IMO/SOLAS requirements, LSA Code and European Council
Directive 96/98 for Marine equipment (MED).
MED Approved by DNV/GL according to international standards.
Increase safety and reduce costs
HERO offers all-inclusive service plans that cover service and spare parts for your liferaft at
reduced fixed annual rate.
Liferaft service: Every year
Buoyancy
3 Individual buoyancy air tubes:
Top buoyancy tube, bottom buoyancy tube and automatic air arch tube (fitted with non-return valve).
Insulated floor composed of a rubber coated fabric, a closed cell foam and covered with an aluminium film.
Anti-drift water ballast equipped with instantaneous filling stabilization pockets (large capacity).
Boarding
The boarding operation takes place after launching the raft overboard.
Large entry in order to facilitate boarding and rescue.
Inflatable boarding ramp connected with an internal ladder.
Easy access on-board: internal and external lifelines.
Exterior and interior handle for easy climbing on board.
Tracking
Highly visible orange canopy: easy to track even in case of bad visibility or unfavourable
weather conditions.
External L.E.D flashlight, lithium battery, manual or automatic release.
Solas retro reflective tapes.
Indoor living
Instant automatic extension canopy.
Waterproof canopy.
Closure of the canopy with sandows.
Thermo isolated floor.
Internal safety lines.
Internal L.E.D light, lithium battery, manual or automatic release.
Rainwater collector system.
Observation port.
Emergency equipment packed on a waterproof protective bag.