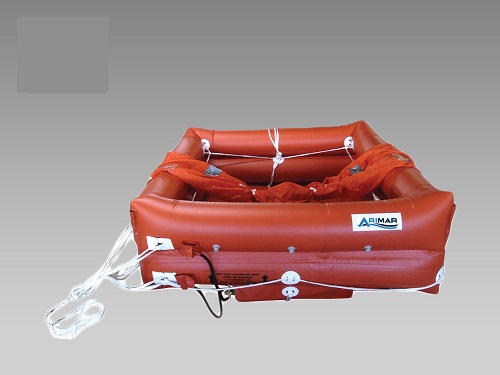 ARIMAR INSHORE ISO 9650-2 LIFERAFT
Compliant with ISO 9650-2;
Suitable for coastal navigation up to 60 miles from a safe mooring point;
Easy-to-set-up canopy.
Manually-Erecting Canopy
OVERHAUL FREQUENCY: every 3 years
MAIN FEATURES
Canopy • Indoor and outdoor light • 4 stabilising pockets
FEATURES
INTERNAL
Anchor with 30m rope • Floating ring + Floating rope • 2 Paddles • Immediate actions • Knife + Pocket
Emergency pack
Bailer • 2 Sponges • Whistle • Repair kit • Hand pump • Internal manual • Sea-sickness bags (1 x P) • Waterproof flashlight + batteries + navigation light • 3 Red hand flares • 2 Parachute rocket flares • Heliograph mirror • Sea-sickness pills (6 x P).
Why choose Arimar:
Aritech®: A special two-sided fabric created to be incredibly torn and punch-proof. Special plastomers make it particularly strong, also under conditions of prolonged exposure to extreme sea environments.
A special high frequency, thermal sealing technology replaces the use of glues and offers excellent performance of inflatable tubes.
Specialized laser-cutting machines guarantee high performance in terms of the quality of production standards.
A revolutionary 'screw' fastening mechanism replaces standard straps, which can deteriorate and break over time, ensuring perfect air-tightness.
ISO 9001 certification. The Arimar production process follows the strictest worldwide quality standards. Thanks to the high level of professionalism and specialization of its designers and technicians, the Arimar team guarantees the observance of the most advanced production methods.