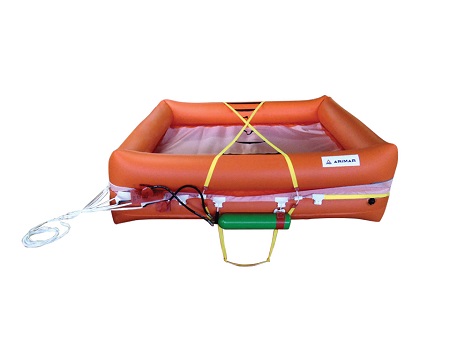 COASTAL LIGHT
    Complies with: DM 12/08/2002 No. 219.
    Approved by the Ministry of Infrastructure and Transport.
    The smallest and lightest on the market.
    Available in rigid container or Valise.
    Navigation use: within 12 miles from the coast.
INSPECTION INTERVAL: first after 3 years, next every 2 years
OPERATIONAL TEMPERATURE: FROM -15°C TO +65°C
N.B: Tolerance size ± 3 cm, weight tolerance ± 5%
Italy Coastal Light liferaft <12 miles from the coast.
MAIN FEATURES
Case • 2 Stabilising pockets
FEATURES
INTERNAL
Anchor with 30m cable • Floating ring + Floating cable • 2 Paddles • Immediate actions • Knife + Pocket
PACK
Bailer • 2 Sponges • Whistle • Repair kit • Hand pump • Internal manual • 12 Sea-sickness bags • Waterproof flashlight + batteries + navigation light • Parachute rocket flare • Heliograph mirror • Water ration (0.250 l x P)