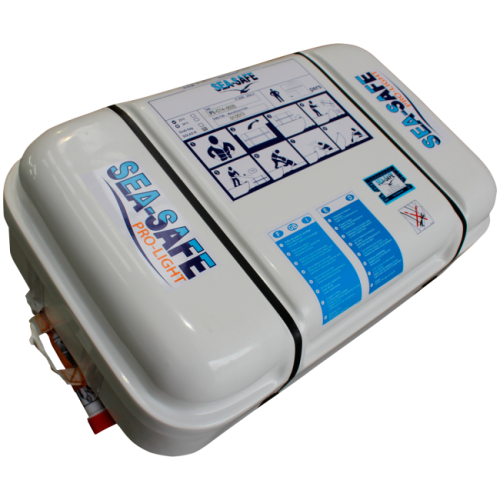 INSHORE COASTAL Liferaft. ISO 9650-2 TYPE II. SEA-SAFE PRO-LIGHT
For inshore coastal Navigation. ISO 9650 Type II. Designed for moderate navigational weather conditions. Ideal for inshore navigations and in areas such as bays, estuaries, lakes, and rivers.
12 Years Warranty.
3 Years Service.
Compact & Light for quick Usage. Closed and secured within seconds
Description
Materials: Natural Rubber and PU coated fabric
Chambers: 3 independent buoyancy chambers
Ballast Bags: 4 water stabilizing pockets each containing 56 liters.
Canopy: Erect automatically during inflation.
Other Features: Large entrance with an easy closing system, rain collector, Internal & external lifelines, insulated floor, internal ladder, SOLAS retro-reflective tapes.
Lights: Internal & external lights activating automatically during inflation.
Packing: Sturdy fibreglass containers with carrying handles or handy soft round bag.
Approval: ISO 9650-2 certified bt Bureau Veritas and MMF
EQUIPMENT & EMERGENCY PACK
1 Bailer, 2 Sponges, 2 Paddles, 1 Whistle, 1 Waterproof torch with spare batteries and bulb, 1 Daylight signal mirror, 6 anti sea sickness pills per person, 1 sea sickness bag per person, 3 hand flares, 2 Parachute rockets, 1 Repair outfit, 1 Inflating pump, 1 rescue quoit with 30 meters floating line, 1 floating knife, 1 Sea anchor with 30m lines.