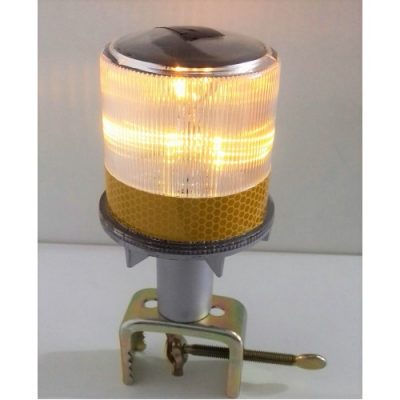 APPLICATIONS
Suitable for boats, ports, construction sites, warding off animals etc.
Sturdy and reliable, self sufficient and visible from a distance of 700+ meters.
It turns on at dusk and turns off at dawn automatically. With 4-5 hours clear solar charge it can operate for more than 40 hours continuously
Its base is made of die-cast aluminum alloy and can withstand vibrations, bumps and severe weather conditions.
The metallic mounting clamp that accompanies the unit allows easy installation on a pipe or railing of up to 45 mm outside diameter, and there is no need for tools.
The clamp can be removed and the cylindrical protrusion can be inserted and secured in a pipe or some other female receptacle of 32 mm (1-1/4 inches) diameter.
TECHNICAL SPECIFICATIONS
Number of LED: 4
Light emitted: Amber
Operating mode: 30 flashes/min
Visibility: 700 + meters, depending on the clarity of the atmosphere
Autonomy: 40 + hours with each full solar charge
Power source: sunlight
Battery: Lithium, 3,7V – 2000mAh
On / Off button
Dimensions: 8 cm diameter X 15 cm height. Including the clamp: 8 cm diameter X 20 cm height
Weight: Without the mounting clamp 200gr.; with the clamp 400gr.
Warranty: 1 year