Kannad Safe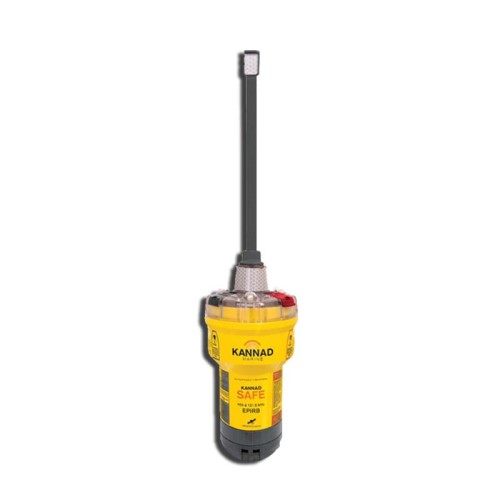 An Emergency Position Indicating Radio Beacon (EPIRB) is a safety device carried by a vessel to alert search and rescue services and allow them to quickly locate you in the event of an emergency. When activated it transmits a coded message on the 406 MHz distress frequency which is monitored by the Cospas-Sarsat satellite system. The alert is then relayed via an earth station to the nearest Rescue Coordination Centre (RCC). With an EPIRB you can summon help wherever you are on the planet, subscription free, no matter how remote!
Rugged 406MHz EPIRB optimised for new MEOSAR system
Operating Frequencies:
Features
Optimised for Meosar
Accidental activation protection
Rugged construction optimised for commercial environments
Hands free carry strap
360-degree strobe
Comes with safety bracket
10-year battery life
Sealed Electronic Unit
Sealed Battery Unit
Manual
Manual Activation EPIRBs

The unit comes in a SafeTransfer bracket which prevents accidental activation of the water switches. This needs to be removed and the unit submerged to activate. Alternatively, users can lift the red tab and activate directly. Typically, the manual EPIRB is considered the crews' emergency beacon and travels with the crew on to the life-raft.
SmartTransfer Bracket
Magnet deactivates sea contacts during transport
Prevents unwanted activations
Best to mount on bulkheads in clear view near emergency exit
Standards Applied
FCC ID: TBA
47 CFR Parts 80, 2
Dependant on variant
COSPAS-SARSAT
C/S T.001 C/S T.007
Europe
MED (wheelmark)
USA
USCG & FCC
FCC ID: TBA
47 CFR Parts 80, 2
Dependant on variant
International standards
IEC 61097-2
IEC 60945 incl. Corrigendum1
IEC 61108-1 (GNSS variant)
RTCM 11000.4
Industry Canada RSS-287
AS/NZS 4280.1
IMO MSC/Circ. 862
IMO regulations
A.662(16);
A.694(17);
A.810(19);
A.814(19)