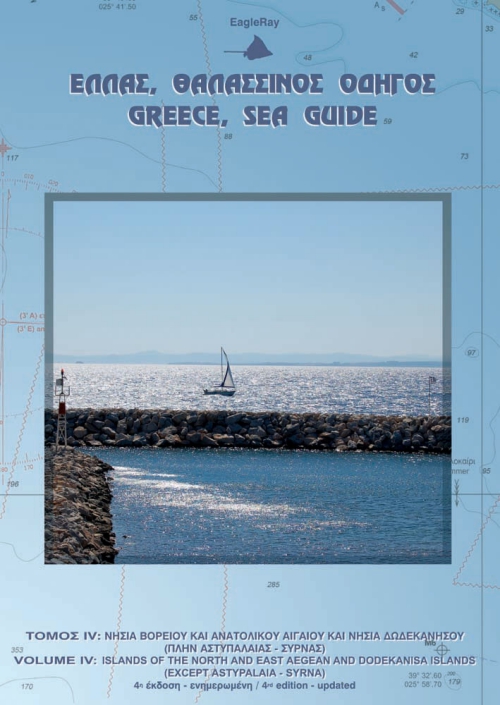 The pilot book "Greece, Seaguide"
The Seaguide is a very "special" book, a handmade product which in a way goes "against the current", against a global market that is oriented more and more towards "the cheapest". Why it is special? Because unlike its cousins from different publishers and different origins, it includes certain unique features:
First of all, the Seaguide is a complete set of official nautical charts and Eagleray, in order to be able to provide this, pays a large percentage of the seaguide price as royalties to the Greek Hydrographic Office every year.
Second, it contains hydrographic plans of more than 1000 harbours, fishing harbours and bays. For every one of those (approximately 1/3) that an official chart exists, Eagleray has surveyed the area in order to update and correct where official information was old or missing. For the rest, i.e. the areas where there is no official chart, Eagleray has created a hydrographic plan with a complete survey of the sea bed, together with the necessary interviews with locals, fishermen and professionals of the area.
When we survey a seabed, we do not just record a few depths on our approach course. Every harbor / bay is sailed up and down many times, collecting hundreds of depths and other sea bed or surface features in order to draw the contours and finalize the hydrographic plan.
Ever since we published the first edition of the first Seaguide (volume 1, 1995), we made the commitment of never publishing a harbour unless we survey it first. The reason for this was that we always wanted to publish updated, accurate, first hand information. Which means that every 5 – 6 years, we resurvey the complete area of each seaguide. In simple words, when I start updating a seaguide, I know I am going to visit about 300 places within a year to a year and a half.
In the current editions of the 4 seaguide volumes, every plan is now georeferenced. Because we made agreements in the near past with large digital charts companies, like Navionics and C-map, to supply them with our data, we had to update our files. So, now, in every plan you can calculate positions, even in those that do not have coordinates. And every depth or point on the plan is placed via its waypoint, which means that the ATM, the light or the 5m depth are exactly where they are placed on the chart.
Testimonial 1
"I have to tell Mr Nicholas Ilias how much we appreciate the work he did for us. How the quality, the accuracy and the humanity of his work allowed us this experience"
Maria and Norbert Collin
Testimonial 2
"The Greece, Sea Guide are the most complete and professional presentation of any navigable waters that I have ever seen"
Captain Stan Antrim, USA
Testimonial 3
"…you'll find the Guide invaluable…a wealth of local knowledge…Waypoints are marked in practical positions…details of many anchorages…"
Sailing Today, May 2010