Solar Navigation Light 360° 4-5 nautical miles. Steady Light.
HB30 solar-powered marine lights
Description:
HB30 has become the most classical solar-powered LED Light in the field of marine aid to navigation around the world. Because of its self-contained, reliability and durability, it has also become a perfect model for all kinds of warning applications. It installs in minutes and requires no maintenance. The optical part is based on polycarbonate lens for better led transformation which can concentrate light to a small specific angel to meet 4nm visibility requirements. It complies with IALA-AISM's requirements. The service life can be guaranteed with more than 10 years by using the LiFePO4 batteries.
HB30 use touch S to reach IP68 marine requirements.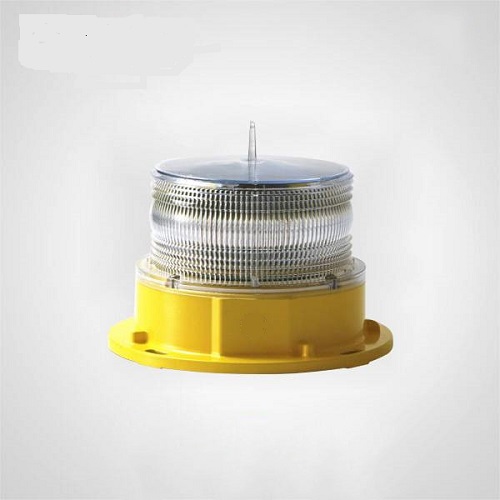 Features:
• Unique optical design complies with IALA.
• Regulation automatically turns on at dusk and off at dawn
• Completely self-contained and watertight
• Poly-carbonate lens is virtually indestructible and anti-UV.
• Will charge under nearly all weather conditions and up to 200 hours of operating capacity from a full charge.
• Easy installation by 4pcs bolts
The illuminator has a spike to prevent birds from standing on its roof, which prevents the solar collector from charging the battery.
Applications:
• High rise building marking
• Telecom tower marking
• Road obstruction marking
• Navigation aid
• Port, dock entrance&walkway
• Buoy marking
• Offshore gas&oil platform
Specifications:
SPECIFICATIONS

LIGHT OUTPUT

HB30

Effective Intensity

50cd (adjustable)

Minimum Autonomy

200hours

Visible distance

Steady on:5nm

Optional: Flashing :2-2.5nm

Vertical Divergence

±7.5° at 50% intensity

Horizontal

360 Degree

LED colour

Green Steady light

Latitude Range

55°S  to  55°N

LED lifespan

100,000 Hours

Flash Pattern

Steady

POWER SUPPLY

Solar Panel

2W mono-crystalline with 16%efficiency

Storage battery

3.7V8.8Ah , replaceable LiFePO4 battery

MECHANICAL STRUCTURE

Lens

Polycarbonate, anti-UV and shock resistance

Base Material

Die-casting Aluminum with anti-corrosion

Water-proof

IP68 by a touch switch