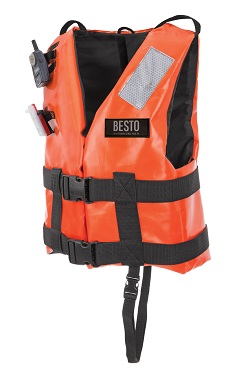 BESTO WORKER 50N WIPE CLEAN

Work vest buoyancy aid CE ISO 12402-5 50N approved with:
strong Wipe 550 Clean smooth synthetic outer skin, dirt-repellent and easy to wipe clean. Oil and diesel resistant. The skinis designed for long time. Filling consist of a special super soft foam with closed cels for extra comfort. Easy adjust by means
of two strong waist belts with nexus buckles. The special constructions ensures a long lifetime. Fitted with a crotch strap and panels of reflection on the front and back for extra safety
Extra straps for:

• Portophone/VHF radio
• Solas light
BUOYANCY 50 NEWTON
The buoyancy of a lifejacket is measured in the Newton unit. A lifejacket must have sufficient buoyancy to keep the user's airways above the surface. The vests are divided into different classes depending on the amount of buoyancy, though the actual Newton's number may vary depending on the size of the vest.
Product equipped with detachable crutch strap.
Product with 2 year guarantee.