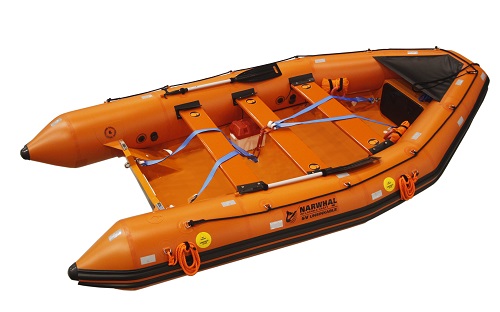 SV-420
Standard equipment
GRP unsinkable hull
Polypropylene/aluminum transom plates
Mooring/towing & lifting rings
PU Polyurethane Buoyancy tube
Automatic relief valves
Aluminium boat hook-paddle
Retainers for fuel tank
Folding fisherman benches
Bowdodger
Pocket for line
Bow locker for equipment
"D" rings with rope
Reinforced wide rubbing strake fender
Fastening for righting rope
Pocket for position light
Reflective SOLAS labels
Reinforced stern cones
The required SOLAS equipment Included in the Price. 
1 Four-legged lifting sling
2 Righting line
1 Boat cover
1 Boarding ladder
1 Bow release device
1 Foot pump
1 Line for hauling raft (50M)
1 Radar reflector
1 Searchlight 12V 50W
1 Fire-extinguisher
1 Torch and spares
1 Compass
1 Position light
1 First aid kit
1 Whistle
2 Thermal protective aids
2 Life-saving quoits
2 Aluminium boat-hook paddles
1 Knife
1 Bailer
2 Sponges
1 Floating anchor
S.O.L.A.S. RESCUE BOATS
The NARWHAL rescue boats have passed successfully the SOLAS most demanding tests, in order to achieve SOLAS approval, guarantying that the boats can perform their role as rescue boats even in the most adverse conditions.
Due to their manoeuvrability and quick set-up, their main task is to recover fallen overboard crew members from the sea. They are also useful for vessel monitoring and maintenance as well as for grouping, towing and organizing life-rafts at sea.
The NARWHAL SOLAS series is currently comprised of 3 models, ranging from 4.20 to 7.50 metres. The SV-420 and SV-480 models have been recently adapted to conform to the latest SOLAS requirements, improving also their engine and towing capabilities. The SV-420 and SV-480 have enough room to place the SOLAS compulsory stretcher on deck. The SV-750 rescue boat model which is the biggest rescue boat length currently available on the market obtained recently also the SOLAS approval.