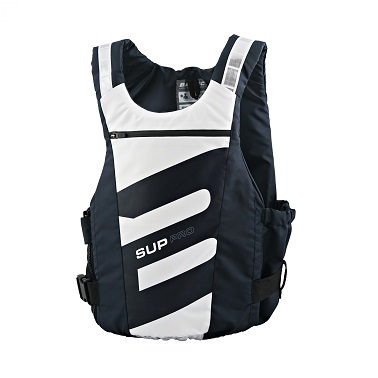 SUP PRO
A buoyancy aid developed specifically for Stand-Up-Paddle boarding. SUP Pro is designed to give the user maximum mobility, both on the board and in the water The buoyancy aid has a long body, which is well suited for SUP use. Suitable for beginners as well as experienced paddlers it is designed to give the user maximum mobility, both on the board and in the water. The buoyancy material has a unique design and division on the front of the buoyancy aid. It is thin, compact and flexible which makes it easier for the wearer to get up on the board from the water and makes the buoyancy aid follow the paddle movement. Easy on and off through a side zip, and to don over the head. Adjustable waistband and zippered pocket on the front. Reflectors on the shoulder areas. 50N buoyancy and is classified as a buoyancy aid.
BUOYANCY 50 NEWTON
The buoyancy of a lifejacket is measured in the Newton unit. A lifejacket must have sufficient buoyancy to keep the user's airways above the surface. The vests are divided into different classes depending on the amount of buoyancy, though the actual Newton's number may vary depending on the size of the vest.
Product with 5 year guarantee.
BUOYANCY AIDS (50N):
These lifejackets that have a carrying capacity of 50 Newtons, they are officially buoyancy aids, have a slightly simpler design than lifejackets. A 50N buoyancy aid keeps you afloat but lacks a collar to support your head. It has the buoyancy force more evenly distributed between the front and back and therefore does not guarantee to turn an unconscious person to a supine position. A 50N buoyancy aid is therefore recommended for swimmers who weigh at least 25kg.
All products in Baltic's range of flotation clothing are tested and approved according to the 50N standard.
SPECIALIST BUOYANCY AIDS
WHETHER YOU´RE WATER SKIING, SAILING OR OR ANY OTHER SPORT ON THE WATER, IT IS IMPORTANT TO HAVE A WELL FITTING BUOYANCY AID SPECIALIZED FOR THE ACTIVITY. OUR SPECIALIST BUOYANCY AIDS ARE APPROVED TO THE 50N STANDARD, MEANING IT WILL KEEP YOU AFLOAT WITH GOOD MARGIN OF SAFETY. A 50N PRODUCT IS SUITABLE FOR SWIMMERS WHO WEIGHS MORE THAN 25 KG.