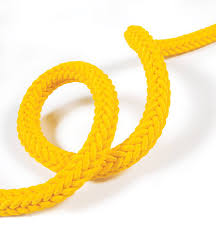 Docko Multi Floating Mooring Line 12 Strands, Polypropelene
Floating mooring rope with high tenacity. Provides high strength and high elasticity
Docko Multi ropes are suitable for use as mooring line in applications where the rope is required to float in water. It is made of Multifilament Polypropylene and offers high elasticity and durability.
The Multi Rope, floats making it light and easy to use, while its elastic property will dampen the load smoothly, without burdening your boat's deck Cleats.
Its construction makes it very durable, without losing its elasticity and shape.
Material
High Strength Polypropylene
Construction
Weight /100m: 16,5kg /100m
Features
Very good strength
Very good abrasion resistance
Floating
Very good resistance to UV sunlight
Chemicals
High elongation properties – High elasticity