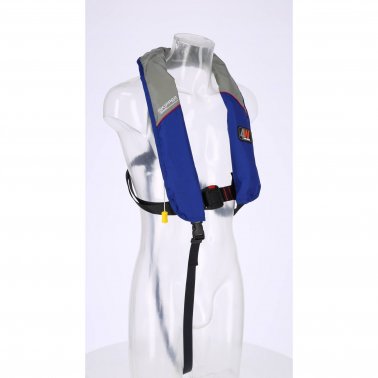 SKIPPER 150N MANUAL VEST
Code: GI501033
Inflatable Skipper vest, with ultra compact folding of the bladder. Its short cut allows great ergonomics and thanks to its very flexible outer fabric, you benefit from better comfort.
Skipper inflatable vest with UML MK5 manual striker and crotch strap:
– Very flexible outer fabric
– Velcro closure.
– All polyester straps
– Short
cut – Nylon quick buckle
– Fluorescent yellow bladder in very flexible PU, separable from the cover
UML MK5 manual firing pin
Accessories: 
– Crotch strap
– Location provided for individual flash lamp
– Delivered in a mesh bag.
-> Regulatory all yachting categories
 inflatable vest
 165N
 without
 SKIPPER
 manual
 55 to 130 cm
 min. 40 kg
 in mesh bag
 Blue grey
 3477440011236
 1
 0.00
 31
 3
 no
 no
 40