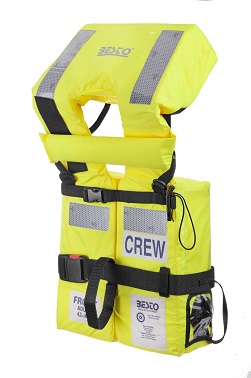 Besto Solas 2010 ad Crew (yellow)
2010 Adult (43 kg+)
• Big collar volume: large head support
• Frontal opening: easy donning
• Adjustable chin & neck strap: high freeboard, individually to adjust neck size
• SS40 click buckle: easy donning
• Good in water performance: rapid turning/high free board
Adult:
The Besto SOLAS EC adult size lifejacket is designed to fi t persons weighting
up to 140kg and with a chest girth of up to 1750mm, in accordance with
Resolution MSC 207(81) amendments of SOLAS Chapter III, without the need
for additional items or extensions
Specifications
| | |
| --- | --- |
| Article number | 20427628 |
| title | Besto Solas 2010 AD CREW (yellow) |
| EAN | 8711497642926 |
BESTO SOLAS EC 2010
INFANT, CHILD AND ADULT
The Besto Solas EC 2010 offers significant improvements on
3 key positions:
Self Righting:
The Besto Solas 2010 lifejackets self rights in an average of
2-3 seconds (previous SOLAS requirement within 5 seconds)
Freeboard of the mouth:
The Besto SOLAS 2010 lifejackets offers a freeboard more
then 140mm (previous SOLAS requirement to be more then
120mm)
Optimized Survival time.
The Besto SOLAS EC 2010 lifejacket has improved face plan
and body angles, for better in water position. This together
with the improved self righting and freeboard makes the
survival time being optimized.
Design:
The Besto SOLAS EC 2010 lifejacket has an adjustable chin
strap that can be adjust to the wearers neck size, so it can be
worn by anyone from 43 kg up (adult size) and still maintaining good face angles and mouth freeboard.
The adjustable chin strap holds the head in the optimum
position for maximum in water performance (even if the
wearer becomes unconscious) and optimizes the survival
time.
SHIPS AND PLATFORMS
All SOLAS Besto lifejackets for are in compliance with the
lifesaving appliances of the Marine Equipment Directive
(MED) 2014/90/EU as amended.
Besto has Lifejackets for Ocean going ships, Drilling Platform
and Windfarms that carry the European mark of approval,
the steering wheel
Specified Standards:
IMO resolution MSC.48 (66) (LSA Code) adopted on the 4e
June 1996 and IMO Rsolution MSC.81(70) adaopted on the
11e December 1998
Amendments:
Resolutions MSC.200(80) adopted 13 May 2005,
Resolution.207(81) adopted on 18 May 2006, Resolution
MSC.218(82) adopted 8 December 2006, Resolution
MSC.226(82) adopted on 8 december 2006, Resolution
MSC.323989) adopted on 20 May 2011, Resolution
MSC.378(93) adopted on 22 May 2014