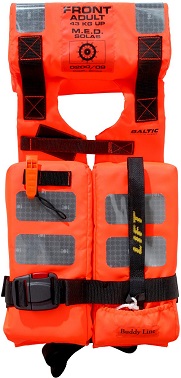 M.E.D./SOLAS FOAM MK3 ADULT
Equipped with retro-reflective patches, buckle, whistle, and lifting loop plus Buddy Line. The outer material is made of durable UV-reflective polyester with floatation material of laminated polyethylene foam. Tested and approved to The Life-Saving Appliance requirements of Marine Equipment Directive (MED) 96/98/EC (latest edition), ANNEX A.1, item A.1/1.4 Tested according to the international standard IMO Res MSC.81 (70) with resolution MSC. 200 (80).
Unfolded:
Width: 270 mm • Height: 160 mm • Length: 580 mm • Buoyancy: 135N • Weight: 0,72 kg
Folded:
Width: 270 mm • Height: 160 mm • Length/depth: 400 mm • Waistband > 1750 mm
M.E.D./SOLAS LIFEJACKETS
Our MED/SOLAS Lifejackets have a design for quick donning, easy storage and are manufactured for a long life span.
Approved according to MED/SOLAS
Approved according to the International Maritime Safety Standard; Safety Of Lives At Sea.
Buoyant force 135 Newtons
The buoyancy of a life jacket is measured in the unit Newton. The life jacket must have sufficient buoyancy to keep the user's airway above the surface. The vests are divided into different classes depending on the amount of buoyancy, however the actual Newton number may vary depending on the size of the vest.
With buddy line
The product is equipped with a buddy line that gives the opportunity to connect several vests.
With a whistle
The product is equipped with a whistle approved according to EN ISO 12401.
2 year warranty
Product with 2 year warranty.