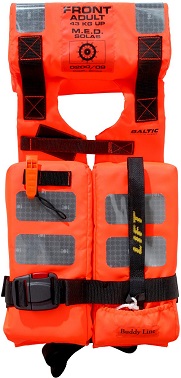 M.E.D./SOLAS FOAM MK3 ADULT
Equipped with retro-reflective patches, buckle, whistle, and lifting loop plus Buddy Line. The outer material is made of durable UV-reflective polyester with floatation material of laminated polyethylene foam. Tested and approved to The Life-Saving Appliance requirements of Marine Equipment Directive (MED) 96/98/EC (latest edition), ANNEX A.1, item A.1/1.4 Tested according to the international standard IMO Res MSC.81 (70) with resolution MSC. 200 (80).
Unfolded:
Width: 270 mm • Height: 160 mm • Length: 580 mm • Buoyancy: 135N • Weight: 0,72 kg
Folded:
Width: 270 mm • Height: 160 mm • Length/depth: 400 mm • Waistband > 1750 mm
M.E.D./SOLAS LIFEJACKETS
Our MED/SOLAS Lifejackets have a design for quick donning, easy storage and are manufactured for a long life span.