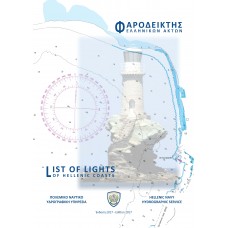 List of Lights of Hellenic Coasts (2015 edition)
This list is being published with the cooperation of the Lights Authority and includes all the lights (lighthouses, lights and floating lights) of the Greek coasts.
The revised edition of the List of Lights is based on regulations of the International Hydrographic Organization and the International Association of Lighthouse Authority.
Φαροδείκτης Ελληνικών Ακτών
Περιέχει το σύνολο των πυρσών (Φάρους, Φανούς, Φωτοσημαντήρες) που υπάρχουν στον ελληνικό θαλάσσιο χώρο.
Περιλαμβάνει όλους τους πυρσούς ( Φάρους , φανούς και φωτοσημαντήρες ) των Ελληνικών ακτών και εκδίδεται σε συνεργασία με την Υπηρεσία Φάρων.
Για την αναθεώρηση του Φαροδείκτη, ελήφθησαν υπόψη οι σχετικές αποφάσεις του Διεθνούς Υδρογραφικού Οργανισμού καθώς και της Διεθνούς Ενώσεως Φαρικών Αρχών.