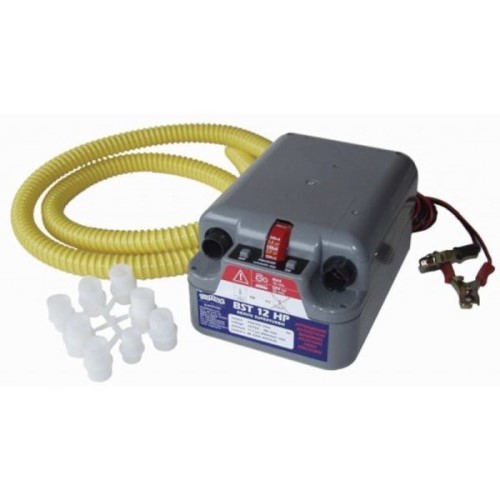 ELECTRIC PUMP BST 12 HP
• 12V
• WITH PRESSURE ADJUSTMENT
• UP TO 800 MBAR / 11.6 PSI
• AIR SUPPLY UP TO 450LT / MIN
Bravo Super Turbo BST 12 HP with Battery High Pressure 12V Inflator Pump. The Bravo Super Turbo BST 12 HP is a high quality pump from Italian company Bravo. Perfect for inflating RIBs and other inflatable boats. Also for boats with inflatable bottoms and inflatable SUP boards (please check PSI of SUP board). The BST 12 HP pump comes with large 'crocodile clips' to connect to a battery.
Features:
High speed and high pressure electric inflator.
Adjustable pressure up to 800 m/bar (11.6psi).
Automatic cut-off when the selected pressure is reached.
Very reliable pump: the turbine and piston mechanism allows for the elimination of those parts which are subject to mechanical wear and tear lengthening the life of the pump.
Can inflate and deflate.
Equipped with connectors and carry bag, hose and various valve sizes.
Motor gear made of brass for added longevity.
3m cable with wide diameter.
Detailed annotated instructions.
Weight: 1.9kg. Piston flow rate: 150 l/min; Turbine flow rate: 450 l/min; Max pressure: 800 m/bar (11.6psi); Consumption: 20 A max.