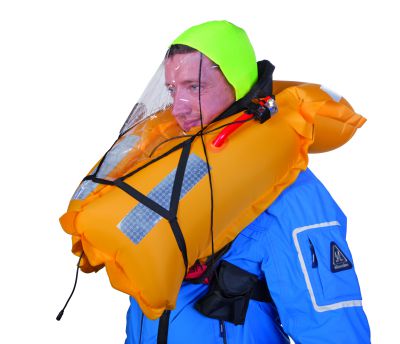 EXTREME 300N
LIFEJACKET 300N "EXTREME" STYLE
The Besto "Extreme" is the jacket when only the best is
sufficient. The jacket has an exceptionally high standard of
finish and is manufactured with superior materials.
The jacket is standard provided with:
1. Double reflector strip on the outer fabric
2. High durable 250 grams nylon coated outer skin
3. Solas approved sea light fitted inside
4. Provided with Clear Indicator UM system and "inspection window" enabling you to check if the automat is "stand by"
5. Easy adjusting by means of stainless steel side adjuster, left and right.
6. Clickbuckle + double D-ring and integrated safety harness
7. Double crotch straps for extra safety
8. YKK Burst zipper closure
9. Mesh back side panel with soft paddings for a comfortable fit
10. The jacket is tailored for extra comfort
11. Incorporated ISO sprayhood
STANDARD
• Double leg strap
• Clear Indicator Window/System
• Side Adjuster L/R
• Luxury Mesh Backpanel
• Reflective panels on the cover
• Solas Light
• zipper Closure
• Sprayhood
SPECIFIC MARKS
• Standard System: United Moulders CXI Clear Indicator
• Optional System: Hammar MA1 Hydrostatic
• CO2 Cylinder 60 gram, 300N
ACCESSORIES
Art. no.       Description
20.427.027 Recharge Set Auto CXI 300N (for jackets until September 2018)
20.427.052 Recharge Set 300N 'Elite' (for jackets from September 2018)
20.427.032 Recharge Set Auto Hammar 60 gram MA1 300N
LIFEJACKET 275N ISO 12402-2
Offshore – extreme conditions Ideal for use with heavy, waterproof clothing at or on the sea in extremely heavy weather conditions. Safe for use in the case of unconsciousness under almost all conditions.
BESTO INFLATABLE JACKETS QUALITY / SAFETY
All Besto inflatable jackets are certified the latest CE ISO standards. Besto inflatable jackets are fully manufactured in the EU and under one roof, from cutting the fabric to the full assembly. Besto uses superior materials only. All jackets are 100% subjected to a pressure test and final inspection prior to leaving the factory to assure optimal quality and safety.
RE-INSPECTION
All jackets must be re-inspected once every other year (or yearly, if used professionally). Besto recommends annual service to be done! The latest inspection date and name of the inspection station are printed on the label near the mechanism. Besto has a designated inspection room and uses calibrated tools and original parts. The routine at re-inspection includes:
» a 16-hour pressure test.
» replacement of o-rings, melting capsules, etc.
» inspection of any damaged straps, fasteners, etc.
After inspection, the jacket is stamped with the inspection date and the name of the inspection station and an inspection certificate is forwarded to you.  Always check the general condition of the jacket and ensure that the jacket is operational.
When in doubt, or if you have any questions, contact us to support@galanos.gr or call +30 210 4136035. Do not perform any repairs on the jacket yourself, but return the jacket to the dealer.