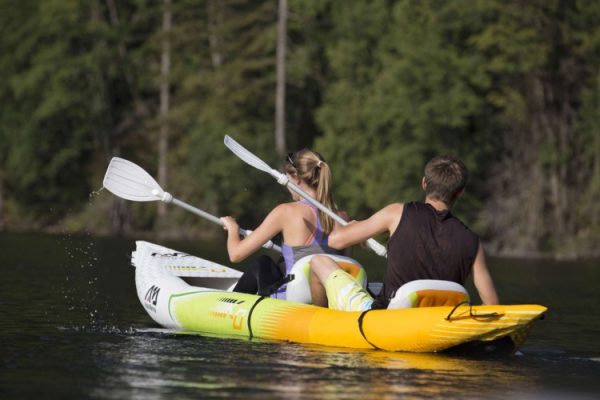 Product Description
Designed for rugged sturdiness, Betta HM kayaks offer portability, easy storage and fast set up.
HM is 412cm one person kayak designed for lakes and moderate waters. This inflatable kayak
weights 13,5Kg and has a weight capacity of 155Kg. It has tracking skegs that make maneuvering
easy even for a novice user. Betta HM is a natural choice for beginners to intermediate level paddlers.
Bow design: Extended water splash guard bow design with safety bungee cord around.
Floor and Foot Rest: Inflatable floor provides comfort and stability
Tracking Fin: Made of nylon material. Install to the kayak to divide water and decrease water resistance.
Inflatable seats: High back inflatable seat. Removable and adjustable.
Length: 412cm
Width: 83cm
Max. Passenger: 2
Capacity: 155Kg
Weight: 13,5Kg
Air Chambers: 2+1
Drain Valves: 1+4 self-bailing
Fin System: 2 center fins
Warranty: 1-Year
Pack Contains: Kayak Paddle, Inflatable Cushion Seat, Foot Brace, 11'' Foot Pump, Pressure Gauge,
Slide-in Center Fin, Carry Bag, Repair Kit, Manual