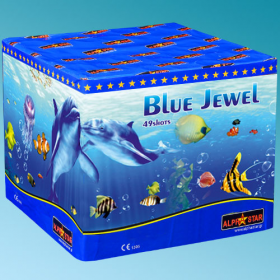 Εναέρια πυροτεχνήματα σε πακέτο 49 βολών Blue Jewel ΚΑΤ. F3
 Τα εναέρια πυροτεχνήματα – βεγγαλικά είναι εύχρηστα και προσφέρουν ιδιαίτερη λάμψη σε κάθε κοινωνική εκδήλωση, γάμους, βαπτίσεις, πάρτυ, εγκαίνια κτλ.
Μπορούν να χρησιμοποιηθούν με μεγάλη ευκολία και από ιδιώτες αρκεί να τηρηθούν οι νόμιμες προϋποθέσεις και να ληφθούν σοβαρά υπ' όψιν οι οδηγίες χρήσης και τα μέτρα ασφαλείας που αναγράφονται στην ετικέτα του προϊόντος.
Οδηγίες χρήσης και μέτρα ασφαλείας για τα πυροτεχνήματα πακέτο 49 βολών Blue Jewel θα βρείτε επάνω στη συσκευασία του προϊόντος
Αυτό το πακέτο πυροτεχνημάτων περιέχει 7 σειρές με 7 βολές κάθε σειρά.
Blue tail to brocade crown king and blue tail to special red, green glitters.
 Εκτοξεύονται μόνο κατακόρυφες βολές.
Η χρήση του προϊόντος επιτρέπεται σε άτομα από 18 ετών και άνω.
Τοποθετείστε το πακέτο πυροτεχνημάτων σε επίπεδο και στέρεο έδαφος και φροντίστε να
μη γέρνει και να μην υπάρχουν εμπόδια στην κατεύθυνση βολής.
 Η καύση γίνεται πάντα σε εξωτερικό χώρο 45μ. μακριά από ανθρώπους, ζώα, ξερά χόρτα,
δέντρα, ψηλά κτίρια, εύφλεκτα υλικά κ.τ.λ. Πάντα χωρίς αέρα και με καλές καιρικές συνθήκες.
 Σταθείτε παράπλευρα, αφαιρέστε το προστατευτικό κάλυμμα του φυτιλιού, ανάψτε το φυτίλι
στην άκρη του, απομακρυνθείτε αμέσως σε απόσταση ασφαλείας ή σε ασφαλές μέρος.
 (Ενδείκνυται η χρήση τηλεχειριζόμενης συσκευής).
Οδηγίες χρήσης και μέτρα ασφαλείας για τα πυροτεχνήματα πακέτο 49 βολών Blue Jewel θα
βρείτε επάνω στη συσκευασία του προϊόντος
Πυροτεχνήματα